Giving
Details

Category: Giving
Proverbs 3:9
Honor the Lord from your wealth
And from the first of all your produce;
---
You can give tithes and offerings traditionally during our worship service, using cash or checks and your offering envelopes; but with the added benefit of online giving, you can now give anytime, anywhere.  Below is a list of the multiple ways you can give to Morningside.
Giving back a tithe, or ten percent of your income to God is all about having a grateful heart.
Ways to Give:
Jump to:  Mail or In-Person | Bill Pay |  Online Giving |  Text-to-Give |  Give via Mobile App
---
Mail or In Person
You can put your tithe in the offering plate during service, drop off your tithe at the church during normal office hours, or mail your tithe to the church at the address below.  If you wish to drop off at the church, please call ahead to ensure the office staff will be available to receive your tithe.   If you wish to mail your tithe, please send it to:
Morningside Baptist Church
15001 Bailey Cove Road
Huntsville, AL 35803
---
Bill Pay
To use your bank's online bill payment service, provide your bank with the mailing information below to send a one-time or recurring tithe or offering check:
Morningside Baptist Church
15001 Bailey Cove Road
Huntsville, AL 35803
 If you would like to designate your tithe or offering using Bill Pay, please ensure you add a comment in the memo field.  Otherwise, your gift will be deposited into the General Fund.
---
Online Giving
Click on the button below to give online using our provider, Realm (onrealm.org).  By creating a secure account, you can set up one-time or recurring gifts or tithes to our church.  

---
Text-to-Give
 You can also give via text message 
 Text  'MBCHuntsville' to 73256 and you will receive a reply with a link where you can complete the transaction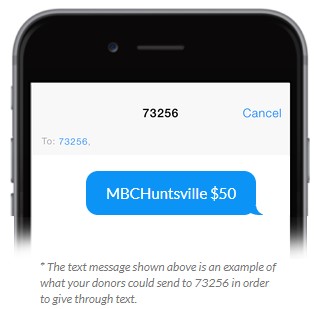 The example above shows you how to text $50.  After the text is sent, you should receive a reply with a link that will take you to a page that looks like the image below.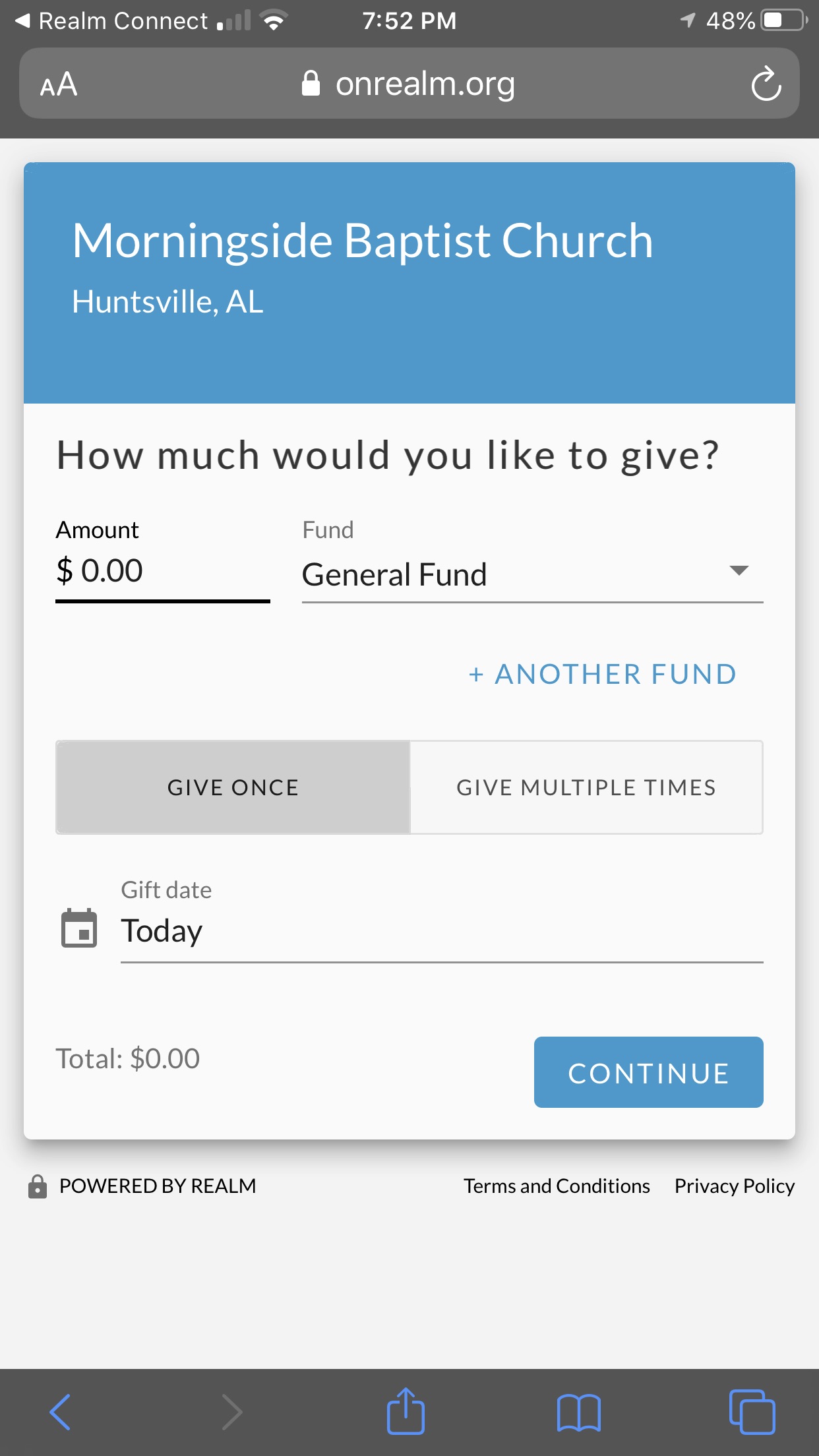 The link you receive in the reply will allow you to change the amount and also designate which fund you would like you gift to support (The General Fund is used to fund all ministries of the church by default). 
 Standard text message rates do apply 
 MBC incurs a small processing fee for each online transaction, but the donor has the option to add additional funds to help cover the transaction fees 
---
 Give via the Realm Connect Mobile App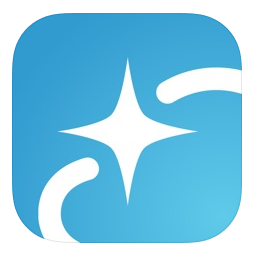 MBC members can use the Realm Connect Mobile App to manage their giving and improve their engagement with our church family.
Download the Realm Connect app today from the Google Play Store or the Apple App Store and contact the MBC Office to get an invitation to join (restricted to MBC members only).
Once you've received an invitation from the Office to join, you can use your mobile app to view your giving and to give your monthly tithes and offerings.  Just click on the 'Giving' button at the bottom of the screen and then 'Make a Gift.'.